Tile Renovation Coating
Safe water-based thermal coating, reduces CO2 emissions, benefits the environment, contains Ceramic Spheres which help improve the insulative properties of the roof, eco-friendly.
Description
A high quality water based Acrylic coating, designed as a long lasting external decorative and protective finish for concrete and fibre cement roof tiles. The coating has excellent durability and colour properties which bring life back into the roof tiles.
Uses
Suitable for use on exterior concrete and fibre cement roof tiles.
Excellent adhesion to porous surfaces.
Can be brush or spray applied.
Not to be used on painted surfaces or high density/low suction substrates such as glazed brick, glazed tiles, engineering bricks, clay and sand dressed clay tiles.
Pack Size
Available in 5 Litre or 15 Litre

Our Colours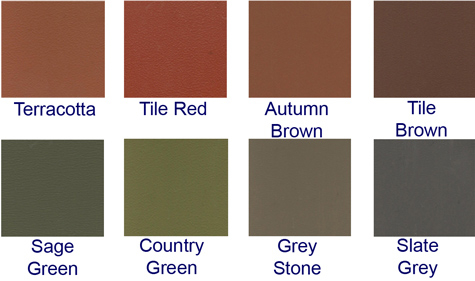 Also available in Black and Clear.
Surface Finish
Matt
Buy Our Product
You can buy the Resto Roof product in our webshop which also sells many more paints and sundries products.
To visit the Resto Roof Product in our webshop,Click here.
Our Brochure
Below you can run through our brochure, page by page, or alternatively download it here.